The 2020 Film Prize Experts
Mentors, consultants and trainers from the international film industry support the Film Prize Nominees during the workshops to further develop their project, to strengthen the idea of co-producing and to train and rehearse their pitch to the jury.
Ahmed Sobky
started his career in film PR and marketing, later venturing into film distribution in Egypt and the Arab region. In 2015 he joined Zawya Cinema in order to launch the distribution arm for the art-house cinema with a particular focus on Egyptian independent films. As the Head of Sales, Acquisitions and Theatrical Distribution he manages the day-to-day programming of Zawya Cinema, in addition to the regional distribution of multiple Egyptian films including CACTUS FLOWER, IN THE LAST DAYS OF THE CITY, and POISONOUS ROSES. Most recently Ahmed has been focusing on the distribution of the restored films of the late Egyptian director Youssef Chahine in Europe and the Arab world. Ahmed works with the Nominees on distribution strategies. 
Ayman El Amir
is an Egyptian script consultant and film producer. He works as a script consultant for many programs, labs and institutes including TorinoFilmLab, Doha Film Institute, The Film Prize of the Robert Bosch Stiftung, International Marrakesh Film Festival Atlas Workshop and The Royal Film Commission of Jordan. El Amir consults privately on films and leads several international script development workshops and masterclasses. Ayman established his production Company (Felucca Films) in Egypt in 2016, which focuses on fresh and new talents and contemporary social issues. During the same year, he implemented the Mahd Film Lab, a Cairo-based script development programme open to filmmakers working on Arab film projects and Arab-European co-production. As a producer, his latest work includes the short fiction, FAKH, selected for the official competition of Semaine de la Critique at Cannes Film Festival 2019 (also, a winner of the The Film Prize of Robert Bosch Stiftung 2017) and the feature documentary HAPPILY EVER AFTER, premiered at IDFA 2016. Ayman supports the Nominees as script consultant. 
Fabian Driehorst
is a producer of documentary and animated films. He founded the studio Fabian&Fred with Frédéric Schuld in 2011 and won production grants such as AFAC, Doha Film Institute, Jihlava Film Fund, Wim Wenders Scholarship, Gerd Ruge Scholarship and the Film Prize of the Robert Bosch Stiftung for his productions. His films have received many awards and were nominated e.g. for the German Short Film Award (Lola). Fabian is board member of AG Animationsfilm and an active member of the European Animation Awards. 2019 he was awarded the VFF Documentary Production Award at DOK.fest Munich. Fabian shares his experience as a Film Prize winner and tackles co-production issues. 
Irit Neidhardt
graduated in political science, Islamic science and anthropology from the university of Muenster/Germany. She worked as trainer for self-defense and assertiveness for girls and women, managed an adult education center for political and cultural learning and has been acting as avocational author, curator and speaker in the field of cinema and the Middle East since completing her studies in 1995. In 2002 she decided to devote her working life to cinema and funded the distribution and sales company mec film complementary to her free-lancing. Irit Neidhardt is associate producer of Mahmoud al Massad's award winning feature-documentary RECYCLE (Jordan/NL/CH/GER/USA 2007) and co-producer of Simon el-Habre's highly acclaimed THE ONE MANY VILLAGE (Lebanon 2008), his latest GATE #5 (Lebanon/UAE 2011), Kamal Aljafari's critically acclaimed PORT OF MEMORY(Palestine/GER 2009), Damien Ounouri's prizewinning FIDAI (Algeria/FR/China/Kuwait/ GER 2012) and Raed Rafei's ECCOMI … ECCOTI (Lebanon 2017). She worked as development consultant for Tamer El-Said's IN THE LAST DAYS OF THE CITY (EG/VAE/UK/D 2016) and as dramaturgic consultant for Pary el-Qalqili's THE TURTLE'S RAGE (GER/Palestine 2012). She is author of various articles on subjects related to cinema and the Arab World, focusing on issues of co-operation and financing. From 2014 till 2016 Irit was Honorary Fellow at the European Centre for Palestine Studies at the University of Exeter (UK) with a research on PLO-German cooperation in film-making. Irit is member of the board of the German edition of the Global Media Journal and German quarterly inamo. She is member of the German Documentary Association (AG DOK), German Association of Art House Theatres (AG Kino-Gilde) and The German Middle East Studies Association for Contemporary Research and Documentation (DAVO). Irit supports the Nominees with her expertise on Arab cinema, on international co-producing and on distribution. 
Maike Mia Höhne
studied visual communication at the University of Fine Arts Hamburg, the Escuela de Bellas Artes in Havana as well as the Escuela Internacional de Cine y Televisión in San Antonio de los Baños, Cuba. After stays in Buenos Aires, Argentina, she completed her post-graduate studies at the University of Fine Arts Hamburg with a focus on film. She works as a curator and juror for several institutions and festivals worldwide and is involved in film funding on a regional and national level. From 2007 to 2019 she was head of Berlinale Shorts of the Berlin International Filmfestival. Maike Mia is a professor for film at the University of Applied Sciences Europe in Hamburg. She also teaches Filmtheorie and making at the University of Fine Arts in Hamburg. Since March 2019, she has been the artistic director of the Hamburg Short Film Festival. Maike Mia imparts know-how about festival strategy.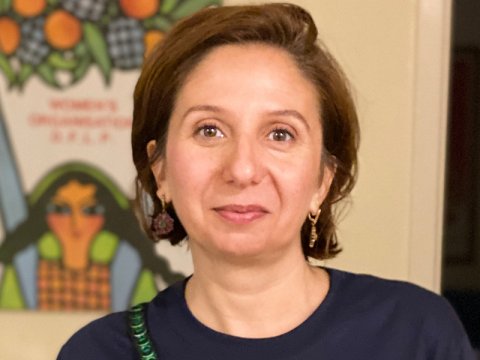 May Odeh
is born in Birzeit-Palestine. She is a director and producer, known for MARADONA'S LEGS (2019, winner of the Film Prize of the Robert Bosch Stiftung), IN VITRO (2019), GAZA BY HER (2017), THE CROSSING (2017), DRAWING FOR BETTER DREAMS (2015), DIARIES (2011), SEARCHING FOR NAPOLEON (2006) and UNKNOWN SOLDIERS (2014), ROSHMIA 2014, IZRIQAQ 2013. She worked on production and distribution of many Palestinian fiction and documentary films. She is the founder of Odeh Films, a production company aiming to produce and distribute creative documentary and fiction films. May has a Master's Degree in film and production from Lillehammer University in Norway. May shares her experience as a Film Prize winner. 
Raed Andoni
Is a Palestinian filmmaker and producer based in Paris. Raed has been working in independent cinema since 1997. He co-founded Dar Films, a production company based in Ramallah, producing and securing a wide international distribution for a number of award-winning documentaries. In 2008, he co-founded Les Films de Zayna, a Paris-based production company. His first feature documentary as a director, IMPROVISATION (2006) has screened in various international festivals and received the 2006 Art and Culture Award at the International Mediterranean Documentary Competition run by CMCA. FIX ME (2010), has premiered at the 2010 Sundance Film Festival and won several awards in international and Arab film festivals. It was commercially released in France in November 2010. GHOST HUNTING (2017) has premiered at the 2017 Berlin International Film Festival, winning the Best Documentary Award and an audience award. Raed supports the Nominees as a mentor for project development and as a pitching trainer.
Sabine Sidawi
is a Beirut-based producer who founded in 2007, Orjouane Productions, one of the most renowned production companies in Lebanon today. Sabine has produced, co-produced and line produced more than 25 Feature films, fiction and documentaries which have been screened and awarded at international festivals and sold around the world, among them, 3000 NIGHTS by Mai Masri, PEUR DE RIEN by Danielle Arbid, UNE HISTOIRE DE FOU by Robert Guediguian, A MAID FOR EACH by Maher Abi Samra, MAY IN THE SUMMER by Cherien Dabis, 74 THE RECONSTITUTION OF A STRUGGLE by Rania & Raed Rafei, WE WERE COMMUMISTS by Maher Abi Samra, CARLOS by Olivier Assayas… Sabine Sidawi is now developing two feature films SUZANNE & OSMANE by Danielle Arbid and APOLLO by Tarazan & Arab. She has finalized the feature film BEIRUT HOLD'EM by Michel Kammoun and the medium length documentary NASMET TANGO by Maya Tabet Noun. Sabine Sidawi has been teaching film production in two major Lebanese universities since 2009 and has participated in several international conferences as an expert in Middle-East Film Production.
Selina Ukwuoma
is a freelance script consultant who began her career at literary agency Curtis Brown working on theatre, film, and television projects including 2008 BAFTA winner BOY A. She has since gone on to advise on award-winning indies such as 2014 Teddy winner THE WAY HE LOOKS and last year's Goyas triumph SUMMER 1993. As well as consulting for production companies and designing and running development initiatives such as Realness Screenwriters' Residence, Selina teaches screenwriting at the UK's National Film and Television School and regularly mentors and leads workshops at film festivals, including Berlinale Talents Script Station, TIFF Writers' Studio, Talents Sarajevo Pack&Pitch, and CTIFMF ADAPT. Prior to her career in the film industry, Selina travelled, taught English, and completed degrees in screenwriting, professional writing, and social anthropology. She has various interests, but is always keen to learn something new.