Still from "Tshweesh", 2017 by Feyrouz Serhal
Still from "The Parrot", 2016 by Amjad Al Rasheed and Darin Sallam
Still from "Amal", 2017 by Mohamed Siam
We are looking for emerging filmmakers from the Arab World and Germany who want to realize a joint film project in co-production. The aim is to provide primary experience with international co-production and to support intercultural exchange and understanding.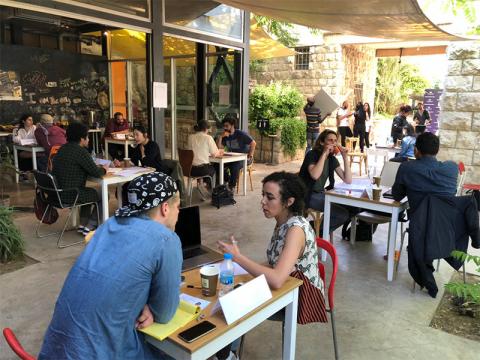 Project Market Amman
The participants for this year's Project Market Amman, which takes place in cooperation with the Royal Film Commission – Jordan from 13 to 18 June 2019, were selected out of 146 entries.
20 directors from Algeria, Bahrain, Egypt, Jordan, Lebanon, Palestine, Syria and Tunisia with nine documentary and eleven short fiction film projects will meet with 14 producers from Germany. During the five-day program they can discuss the projects, exchange ideas and possibly join forces to submit an application for the Film Prize program. 
And the 2019 Film Prize winners are ...
The three 2019 Film Prize winners were announced at the award ceremony held during Berlinale Talents on February 10, 2019. Two documentaries and one short fiction project were each awarded the 60,000 Euro Film Prize and can start production.
Get an insight into our program