THE TRAP, 2019 by Nada Riyadh
MARADONA'S LEGS, 2019 by Firas Khoury
AMAL, 2017 by Mohamed Siam
TSHWEESH, 2017 by Feyrouz Serhal
With the 2021 Film Prize edition, the Film Prize program comes to an end.
Due to the coronavirus pandemic, this edition is tailored to meet the current challenges the world is facing. In doing so, the core content of the Film Prize program is maintained.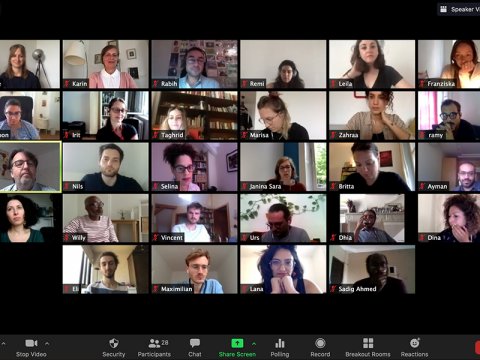 Film Prize Project Market
Due to the coronavirus pandemic, this matchmaking platform, which has always been at the core of the program, took place as an online workshop from 15 to 17 July 2020.
Twelve Arab directors with 6 feature documentary, 4 short fiction and 2 animation film projects from Egypt, Iraq, Jordan, Lebanon, Sudan, Syria and Tunisia met with 12 selected German producers from all over Germany.
In intense one-to-one sessions, these meetings could result in a good match and each team formed of an Arab filmmaker and a German producer would be able to apply with their project to the 2021 and final edition of the Film Prize of the Robert Bosch Stiftung.
The 2020 Film Prize Year
The 2020 Film Prize year started with the Project Market Amman, a platform for exchange and networking in order to find the right team partner for a joint application for the Film Prize. Once the German-Arab film teams were successfully nominated, they were invited to participate in the Film Prize training program before they pitched their project to the international Film Prize Jury. The three Film Prizes were announced during the award ceremony held during Berlinale Talents in February 2020. 
Get an insight into our program